About the Counseling Team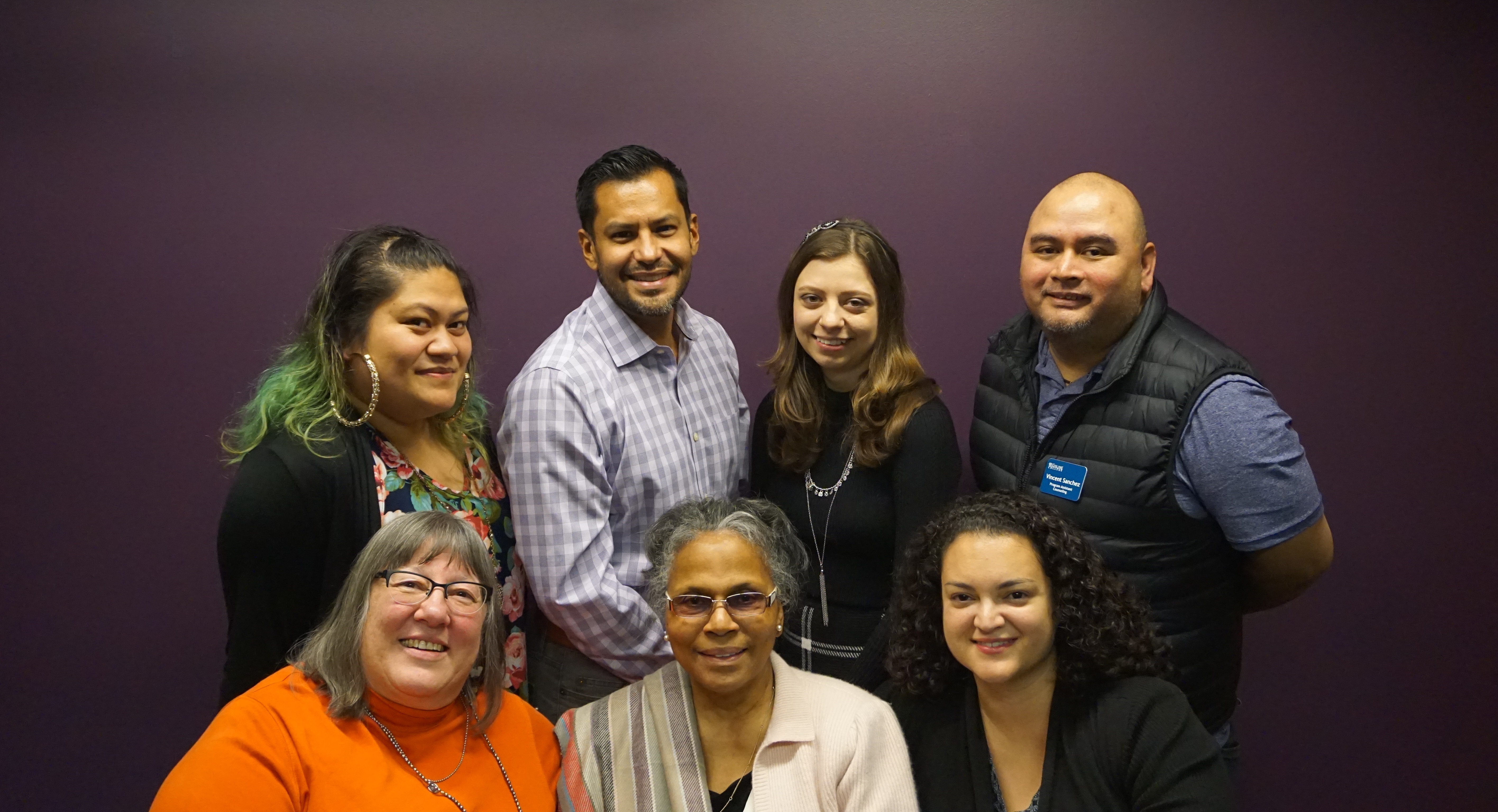 Front Row (Left to Right): Dr. Gloria Rose Koepping, Thressa Alston, and Nicole Hoyes Wilson
Back Row (Left to Right): Soimavi Nikolao, Joshua Magallanes, Mariya Matyash, , and Vincent J Sanchez
Professional Staff
Thressa Alston, M.Ed.
Faculty Counselor
Thressa is an African American woman with Native American ancestry. She holds a Master in Education from Seattle University with an emphasis in Multicultural Counseling. She has worked in clinical and educational settings in several capacities. Thressa has traveled extensively in Africa and Europe and draws from her extensive experience in various multi-ethnic and cultural settings when she consults with health agencies and counseling services. In addition, she is a noted speaker, workshop facilitator and has made television appearances on life planning and transition. Thressa has received numerous award and certificates of appreciation.
Counseling Information Disclosure Statement
Gloria Rose Koepping, Ph.D.
Counseling Psychologist, Faculty Counselor
Gloria is a native Washingtonian, born in Renton and raised in Des Moines. She received her B.S. in psychology, cum laude at Washington State University in Pullman. Gloria completed her M.A. and Ph.D. at Southern Illinois University at Carbondale and interned in the counseling center at The Ohio State University. Her first job was at the counseling center at The University of California, Irvine. She worked in community mental health centers in Illinois and Washington as well as private practice.
Her clinical work is influenced by Rogerian, Interpersonal, Developmental, and Relational perspectives. She has studied meditation, art therapy, gestalt therapy, and psychodynamic theories and practices. Gloria has a special interest in working with students who have depression or anxiety problems, relationship and sexuality issues, trauma, and career decision making concerns.
Outside of work, Gloria enjoys watercolor painting, hiking, yoga, and reading. One of her favorite pastimes is spending time with her family cooking or baking.
Psychotherapy Information Disclosure Statement
Nicole Hoyes Wilson, MSW, MA, NCC
Faculty Counselor
Nicole is originally from Washington, and grew up in Puyallup and Federal Way. She has a passion for social justice, building community, and helping others reach their goals and find healing. Nicole earned a Bachelor of Arts (B.A.) in English and Social Work at Pacific Lutheran University, her Masters of Social Work (M.S.W.) with an emphasis on multi-ethnic practice at the University of Washington, and most recently her Masters of Arts (M.A.) in Community Counseling at Seattle University. Prior to becoming a counselor, she worked as a case manager for families experiencing homelessness and domestic violence. In addition, she has 15 years of student affairs experience at Everett Community College in the Diversity & Equity Center, and most recently at Seattle University.
As a therapist, Nicole takes a strengths-based approach to working with students and is influenced by Rogerian, Cognitive Behavioral, and Post-Modern approaches to therapy. In her free time, she enjoys spending time with her family, connecting with friends and community, and finding opportunities to laugh.
Psychotherapy Information Disclosure Statement
Tom Humphreys, MA, LMHC
Faculty Counselor
Tom Humphreys is originally from Baltimore, Maryland and has made Western Washington his home for nearly 30 years. Tom has a BA from the Evergreen State College in Olympia and received his Master's Degree in Applied Behavioral Science from Bastyr University/LIOS in 2000. Tom has been a fully licensed Mental Health Counselor since 2005 and has been working in Human Services since 1988. Tom has provided for a variety of populations in those years; serving as a Case Manager for developmentally disabled children and adults, providing Mental Health services for children and families, home-bound adults and providing Mental Health crisis assessments and interventions for seniors. Tom's professional career has been based in the public service/non-profit domain.
Tom enjoys helping people to become their own best advocates in overcoming whatever barriers they encounter. In his free time Tom enjoys spending time with his family, singing, playing guitar, and barbecuing.
Psychotherapy Information Disclosure Statement
Vision
To instill empowerment, hope and courage to the campus and global community; to create an environment of persistence and authentic well-being.
Mission
To help students and the greater community to reach their goals through personal, career, and educational counseling. We deliver culturally competent innovative outreach programs and individualized services to support the campus and community.
Core Values
Authenticity: We place self-awareness and passion at the center of our work. Humor allows us to stay engaged, reduce tension, and keep perspective while conducting our work.
Aligning Balance: We strive to help establish priorities for individuals and groups that we serve.
Honor, Kindness, and Respect: Amongst our team, we leverage different contributions and honor the best blend of ideas to maximize services.
Multidimensional Holistic Service: We recognize and serve all parts of a person's identity.
Integrity: We exercise integrity through competent actions and follow-through in all that we do.